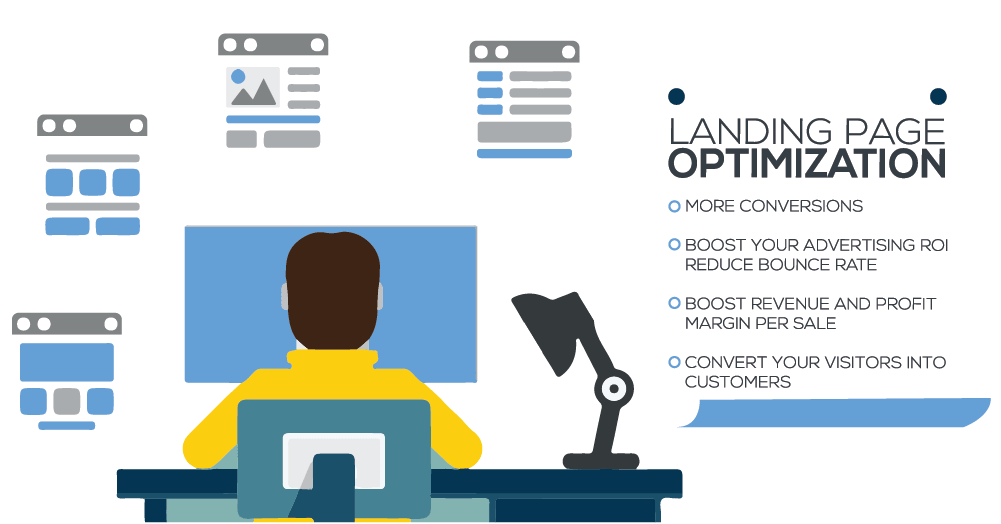 Are you directing all PPC traffic to your homepage? That's an ineffective practice costing you leads and conversions! Creating dedicated landing pages is critical to drive conversions and provide a superior user experience.
Here are some great practices a professional PPC management agency recommends to optimize landing pages:
#1 Identify Landing Page Objective
An experienced PPC management agency starts with understanding client's business, audience, competition and landing page objectives. What do you want site visitors to do after they click on an ad that will take them further down the sales funnel? It could be a form submission or signing up for a newsletter – determine those goals and works towards them.
#2 Speak to Your Audience
Successful landing pages address audience needs and want that led them to click on an ad in the first place. A professional PPC agency builds an ideal customer persona and gets down to writing compelling ad copy in a tone that resonates with them. Content is personalized and persuasive terms such as 'imagine' and 'because' are used to inspire trust and confidence in the audience.
Need help managing clients Google #AdWords account.? Partner with us for Google Ads management services today: https://t.co/xyX6UD8obi pic.twitter.com/8H8de3jg5x

— PayPerClick UK (@PPCOutSourceUK) December 4, 2017
#3 Take Care of Speed and Design
A regular or white label PPC management agency recommends having a separate landing page for each ad group in your PPC campaign. That's a tall order but you can start with a tailored landing page for a single campaign and then expand for individual ad groups when resources permit. Make sure information architecture is up to mark and the landing page has a flawless design with clear navigation, information hierarchy and fast loading times so site visitors are encouraged to stay and explore.
#4 Ensure Easy Perusal
Because advertisers have only a few seconds to make an impression, it's best to keep landing pages short and uncluttered. Have an eye-catching headline that confirms advertisement offer and sub-headings for explanation or value propositions. Include bullet points to make it easier for the audience to scan quickly. Make sure colours of text and background are complementary to each other and provide a visually pleasing experience.
#5 Develop Powerful Content
Incorporate relevant and useful content that's directly related to ad offer. Use the same keywords you used in the PPC ad to reinforce ad message and reassure users they're on the right path. Use high quality, original images and video content, if applicable –visual cues have more power than ordinary text to drive conversions. Limit hyperlinks and ensure they guide users down the sales funnel. If you have a significant mobile audience, make sure landing pages are optimized for mobile devices.
#6 Enable Simple Conversion
White label PPC management professionals understand that users prefer to covert in the least number of steps. To achieve this objective, you need to have a clear call-to-action prominently displayed on the landing page. If possible, make an enticing offer that audience will find hard to resist. Make lead generation forms simple and precise – ask only for vital information such as name and e-mail address.
7 Insightful Tips to Help With Your #PPC Ads Management: https://t.co/CtIQbf8vlc pic.twitter.com/gvrR6Dw3MU

— PayPerClick UK (@PPCOutSourceUK) January 23, 2018
#7 Showcase Credentials to Gain Trust
Build trust by showcasing any professional associations you may have with trusted brands. If you've won awards or have glowing customer reviews, let your audience know – this will make them comfortable with and confident about your business. Incorporate a share button for free social media word-of-mouth publicity.
#8 Conduct Rigorous Testing
A/B testing is a method in which individual elements are altered to see how they compare with the previous set-up. Experienced PPC management agencies conduct many rounds of A/B testing on a regular basis to get the right mix of various elements. For ongoing landing page performance analysis, make sure conversion tracking is set up.
It's a lot easier to get conversions and ROI from your PPC campaign when you have super targeting landing pages. For expert assistance, contact us.!