WHY OPT FOR A PPC AUDIT?
PPC audit services can help enhance the performance of your existing PPC campaign. It is a cost-effective way to make rectifications in your existing campaign, without opting for an entirely new campaign. PPC auditing by PPC-Outsourcing UK can help you look at your campaign from a different perspective, identify weak links and make rectifications to them.
PPC audits are also the solution to the roadblock you face in your PPC campaign. If you seem to be facing way too many bumps in the road, it will help to have experts evaluate your PPC campaign and identify the obstacles. This will allow you to make the necessary changes and move ahead with the campaign. Take advantage of the auditing expertise of our professionals and enhance the performance of your PPC campaign today.
EVALUATION AND ACTIONABLE RECOMMENDATIONS
Our paid search audit unfolds in a two-fold manner. First, our experts scour your PPC account for mistakes or areas of weaknesses. Some common factors that are detrimental to the performance of a PPC campaign include low quality of ad copies, low quality of landing pages, match types that are incorrect, poor or incorrect usage of negative keywords, placements that are not targeted right, etc. We follow an extensive checklist to complete the audit and identify the exact areas in the campaign account that need to be optimized.
The next step in our PPC campaign audit is "actionable recommendations''. The audit is used to compile a list of the areas that require improvement for maximum ROI from the PPC campaign. Furthermore, we also advise our clients on when would be the best time to implement the recommendations we give. Your success is our success.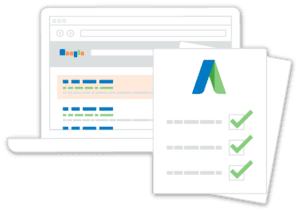 CUT DOWN ON COSTS
Our Google Ads account audits can help identify the areas where money is being wasted unnecessarily in your campaign. In addition to identifying these money "leaks", our experts also give suggestions on how to fix the leaks and turn them into revenue centres.
All our recommendations reduce monetary wastage and improve ROI. These results can be observed quickly and can be measured. Make sure your campaign is performing most effectively by availing our PPC audit services.
AUDIT OF GOOGLE ADS CAMPAIGNS
If you find that your Google Ads campaign is not performing as well as you'd expected it to, give us a call. Our qualified and experienced professionals will go through your entire campaign and identify what is hindering the growth of your campaign.
Our Google Ads audit services covers analysis time-period, location, bidding model, conversion rates, scripting of ad copies, keywords, remarketing strategies, etc. Your campaign will be monitored regularly for constant optimization.
WE ENCOURAGE TRANSPARENT COMMUNICATION
At PPC-Outsourcing, we believe in transparent communication. We start our entire audit process by interviewing you to understand what issues you face and what results you are looking for. This insight allows us to formulate specific actionable recommendations tailor-made to your needs and wants.
We also believe in regular feedback and reports. If you trust us with your pay per click audit, you can be sure of receiving a call from our experts appraising you of the exact condition of the PPC campaign. We will not just provide you with information and leave you in the lurch. Our experts will walk you through our recommendations and advise you on how to implement them for the best results. What are you waiting for? Contact us the right way to better your PPC campaign performance.
WE'RE READY TO WORK WITH YOU
PPC-Outsourcing UK is an exclusive PPC service provider offering a wide range of quality solutions to businesses, small and large, around the world. Please don't hesitate to contact us.

Save Free PPC Guide