Maximise Google AdWords Campaign Potential
We are a leading white-label AdWords agency because we are eminently qualified to work with the Google AdWords landscape. Although Google AdWords campaigns are very effective and deliver superb ROI for even small and medium scale businesses, managing an AdWords PPC campaign requires time, expertise and experience, otherwise, it can end up being expensive and ineffective.
As a Google Certified AdWords Partner, we have what it takes to ensure your message reaches targeted audiences and they are inspired to click through to your website's landing page. We rely on a team of dedicated Google AdWords experts who leverage their industry experience to provide a complete range of services including campaign set up, implementation, evaluation, optimization, maintenance, and reporting.
Strategic, Targeted Campaigns
As part of our services for white label AdWords management in the UK, we will build and execute a strategy that centers on your specific business objectives, competition, and audience preferences. One of the benefits of using a Google AdWord, PPC campaign is that it puts your advertisement in front of targeted customers who are looking for services and products you are offering.
Using our white label AdWords services in London, you can create a strategic campaign that will combine most relevant keywords and search engine appearance so that qualified audiences notice your ad and not your competition's. Another interesting feature of the Google Adwords system is that it allows businesses to accurately test keywords and our Google professionals are experts at leveraging this feature to deliver effective and successful PPC campaigns.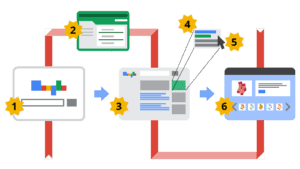 From Beginning to End
No matter what the size of your account, budget or goals may be, we will manage your account with complete professionalism. Our white label Google AdWords services include keyword discovery, keyword selection, ad copy development, help with landing page optimization, conversion tracking, account set up, bid set up, campaign monitoring, budget streamlining, click through rate analysis, campaign modification/refinement, keyword refinement, bid refinement and much more. Using our
PPC management services
, you can be sure that your ads will always reach interested audiences, generate more traffic for your website and produce increased sales.
Comprehensive Feedback for Improvements
We are a specialist AdWords management agency - we do not indulge in guesswork. We are honest and 100% transparent – whether you want to use our Google AdWords services for your own account or to manage a client's account, we provide 100% white label AdWords management services with full confidentiality and discretion.
We can report as often as you'd like – our detailed reports contain vital information on your campaign's progress based on several criteria along with specific advice for improvement. We are happy to answer any questions you may have so that you receive essential information to make intelligent decisions. To know more on how you can use our white label PPC services to get the ad results your business deserves, contact us.
WE'RE READY TO WORK WITH YOU
AdwordsWise is an exclusive PPC service provider offering a wide range of quality solutions to businesses, small and large, around the world. Please don't hesitate to contact us.

Save Free PPC Guide