UNMATCHED EXPERTISE AND EXPERIENCE
The experts at our Google Ads management company are qualified and experienced with the Google Ads landscape. Our aim is to ensure that the Google pay per click ads generate spread word of your product and ropes them in as customers who purchase the products.
Our experts will sit down with you to understand your marketing and business goals before they draw up a campaign. They utilize their expertise in the field to create Google pay per click ads that are bound to succeed. With proven methodologies like constant optimization of your landing page, and strategic use of long-tail keywords, amongst others, our experts are sure to increase your ROI.
STRATEGIC USE OF GOOGLE ADS SERVICES
We are a top Google Ads management agency in the UK because of our strategic use of the Google Ads system. The campaigns we generate and manage are spearheaded by your business objectives, and take into consideration your target audience, their preferences and your competitors. Our experts use the Google pay per click ads to ensure that your target audience first sees advertisements of your products, and not that of your competitors.
Furthermore, our experts combine keywords that are most relevant with search engine appearance so that the most qualified niche of your target audience sees your ads. This improves conversion rates by over 50%. Our professionals also leverage the ability of the Google Ads system to test the performance of keywords to identify the best keywords and use them in your google PPC campaigns for the best results.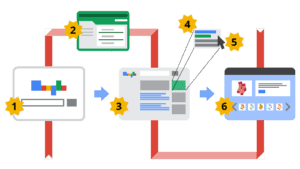 A WHOLE SPECTRUM OF GOOGLE ADS MANAGEMENT
Our white label Google Ads company offers clients a whole spectrum of Google PPC management services. Keyword discovery and selection, development of ad copy, optimization of landing page, tracking of conversions, account set-up, monitoring of campaign, bid set-up, budget streamlining, analysis of click-through rate, modification or refinement of campaign, keywords and bids, are just some of the many services we offer. You can rest assured that our spectrum of Google PPC management services will yield greater sales.
TRANSPARENCY IS OUR POLICY
As one of the premier Google Ads agencies in the UK we pride ourselves on our policy of maintaining transparency with our clients. We provide all our clients with 100% white label Google Ads management services. Our regular reports on the campaign's progress will help you assess the effectiveness of our work.
We encourage clients to bring their queries to us at any point in the PPC campaign. Our experts will listen to all your queries and answer them so you are as well informed as can be. Contact our support team to figure out how we may best help you.
WE'RE READY TO WORK WITH YOU
PPC-Outsourcing UK is an exclusive PPC service provider offering a wide range of quality solutions to businesses, small and large, around the world. Please don't hesitate to contact us.

Save Free PPC Guide