A NUDGE IN THE RIGHT DIRECTION
Google dynamic remarketing uses the cookies in users' browsers to retarget them with ads specific to their online interactions. Research reveals that a majority of internet users expect their online experience to be a reflection of their interests, and if it is not, they quickly move to content aligned with their interests. Our PPC remarketing services are able to convert users from being prospective buyers to actual buyers by giving them a tiny nudge in the right direction.
Research reveals that remarketing increases the chances of conversion from 2% to a whopping 50%. Additionally, our remarketing services will help reduce the count of customers you lose, and reduce the cost of customer acquisition significantly. Cost-per-lead after employing our PPC remarketing services is reported to have been reduced by nearly half the original cost.
MULTI-CHANNEL GOOGLE ADS REMARKETING
PPC Outsourcing is one of the best Google remarketing agencies in the UK because of its effective remarketing strategies that cohesively blend across multiple channels. Our experts understand that users spend time on multiple channels and an effective remarketing campaign should target them on every channel they use.
Our Google display remarketing ads can be found across the Google Display Network where more than 2 million websites participate. But we don't stop there, our experts work towards displaying remarketing ads on channels like Facebook Exchange, Google search engine RLSA, You Tube, and AdRoll, which is a third-party advertising channel. We are committed to delivering an effective remarketing campaign across multiple channels to improve your conversion rates.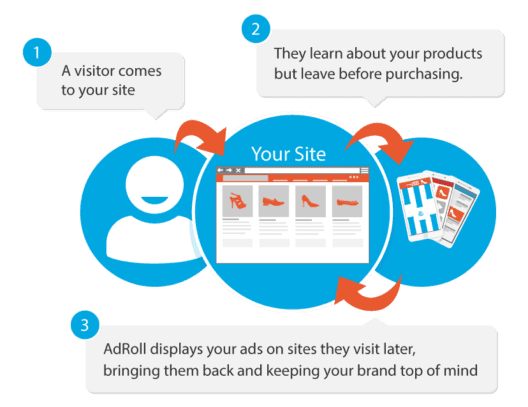 EFFECTIVE NICHE-PPC REMARKETING STRATEGY
Our Google shopping ads for ecommerce are designed using simple text and include attractive display and video ads that are created using relevant keywords and following an in-depth analysis of user behavior on your product page. The goal of these ads is to increase your website traffic.
Our Google shopping remarketing campaigns targets previous customers, prospective buyers, and website visitors. We use Google Analytics tools to determine the number of visitors to your product page and duration of time they spent on the page. This information helps us create specific remarketing ads that focus on a niche group within your target audience who are most likely to convert.
Comprehensive Support Services
As a premier PPC remarketing agency in the UK, we provide comprehensive remarketing services. From setting up remarketing campaigns, suggestions to better the content of targeted ads, management of remarketing PPC campaigns, creation of remarketing ads, performance tracking and analysis, modifications and optimization of ads, to reporting, we provide a full circle of services to ensure you get the best results. Contact us to improve your conversion rates and profits in no time.
WE'RE READY TO WORK WITH YOU
PPC-Outsourcing UK is an exclusive PPC remarketing services provider offering a wide range of quality solutions to businesses, small and large, around the world. Please don't hesitate to contact us.

Save Free PPC Guide