Innovative Solution for Higher ROI
It is estimated that a very small percentage of shoppers actually make purchases on their very first visit to a site. Cookies help track visitor information and remarketing ads are developed on the basis of visitors' site behaviour. Our remarketing Ads services are strategically designed to target previous visitors with a high conversion value and effectively communicate with them when they leave the website and browse elsewhere on the internet.
Google Remarketing campaigns provide significantly higher ROI and reduced ad spend due to niche traffic targeting. They are powerful and effective tools for businesses who want to regain attention and engage with visitors who have already shown interest in their products and services.
Google Ads Remarketing On Multiple Platforms
Not everyone offers quality white label Google remarketing ads services in the UK. Because the system is technical and complex, even digital marketing professionals flounder while trying to provide effective and efficient solutions. Our well-qualified team has been working on Ads remarketing campaigns from the very beginning.
Being a premium Google Partner, we stay ahead of the curve and deliver outstanding Google remarketing Ads that are displayed on the Google Display Network where over two millions sites participate. We can also develop remarketing ads on other platforms such as Facebook Exchange and third-party advertising platforms such as AdRoll.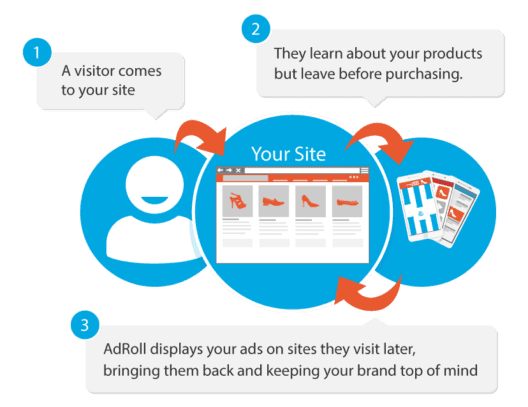 Strategic Targeting of Niche Audience
Our strategy for Google remarketing ad services focuses on creating the right messaging for relevant audiences. One advantage of remarketing ads is that they allow complete control over who sees the ad. We can target all those who've visited your site and by using the Google Analytics tool, we can specifically target audiences based on specific criteria such as how long they've spent on your site or how they went along the purchase process.
We can create a wide variety of ads including simple text ads, attractive media ads and video ads that can be shown on platforms such as YouTube. Based on in-depth analysis, we will help you select the most relevant keywords and develop a compelling ad copy in the right format. Our aim is to drive traffic to your website for enquiries, subscriptions and conversions.
Comprehensive Support Services
We are a specialized white label PPC agency offering a complete range of remarketing ads services in the UK including retargeting campaign set up, advice on targeted ad content, ad creation, full campaign management, performance tracking, analysis, modifications, optimization, improvements and reporting.
While our Google remarketing ads are displayed on the Google Display Network, Google search engine RLSA and YouTube, Facebook remarketing ads will only be seen on Facebook. Generally speaking, using multiple channels will better your chances of deriving successful outcomes. We believe our remarketing ads services offer new, exciting opportunities and endless possibilities – if you're ready to embrace these powerful channels, contact us and we'll be happy to guide you.
WE'RE READY TO WORK WITH YOU
PPC-Outsourcing UK is an exclusive PPC service provider offering a wide range of quality solutions to businesses, small and large, around the world. Please don't hesitate to contact us.

Save Free PPC Guide