PREMIUM WHITE LABEL PPC SERVICES
PPC-Outsourcing is one of the premier while label PPC management agencies in the UK. We hire experts who specialize in PPC management for various clients like freelancers, consultants, SEO firms, resellers, etc. Our experts are Google-certified and have years of experience in keyword research, optimization of landing page and PPC campaigns, scripting of ad copy scripting, auditing and reporting on the PPC campaigns, etc.
Armed with experience with the latest innovations and advancements, tools, and trends seen in the market, our experts have been successful in delivering effective white label PPC campaign management services across the UK. It doesn't stop there; our professionals also have the expertise to run successful campaigns across various search engines and social media platforms. Take advantage of their expertise and deliver the best results to your clients today.
TRIED AND TESTED WHITE LABEL PPC METHODS
PPC-Outsourcing manages white label PPC for agencies in London and across the UK. Our services follow methods that have been tried and tested and have brought success to many agencies across the UK. While the specific strategies we adopt are peculiar to each client, the general procedure remains the same.
We start by listening to your objectives and demands before beginning to plan an effective PPC strategy. Then, the product or service is evaluated and so are the competitors in the field. Following this an extensive keyword research is conducted and the highest performing keywords are identified. An ad copy is created using these keywords. It doesn't end there, the landing page is constantly monitored and optimized to ensure that the increased ROI is maintained.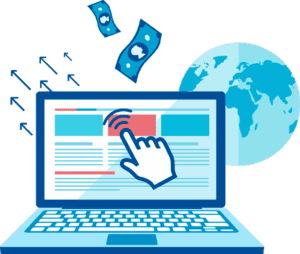 YOU CAN SEE THE RESULTS FOR YOURSELF
When you outsource your white label pay per click services, you should make sure you choose a service provider who best listens to you and your objectives. Unless the professionals you reach out to are willing to listen, they will not be able to address the specific marketing requirements you have. Our experts do not begin with the planning until they conduct a thorough PPC audit and interview you to understand your specific needs. This is what guides the entire process of PPC management we deliver.
This motto of listening first, working next helps us create tailor-made solutions of PPC white label for resellers in the UK. These solutions are effective and garner the maximum ROI, revenues and profits. The results are quick and measurable. You can see for yourselves how the conversion rates increase. We believe in letting our work talk for itself rather than toot our own horn, and have been able to serve businesses, resellers, agencies, and many others, across the UK.
YOUR TRUST IS IMPORTANT TO US
We take pride in being one of the most trusted white label PPC agencies in the UK. We consider our services a success when you achieve success. The spotlight is not what we work towards, you being in the spotlight is what we focus our efforts on. Discretion and confidentiality lace every service we take over for our clients.
Furthermore, our services are transparent and we take our clients through every step, with every right to raise queries at any and every step of the way. We believe in open lines of communication. Our clients have direct access to our Google-certified experts at every stage of the campaign we undertake for you. If our PPC white label services sound like what you've been searching for, contact us. Our staff are more than happy to assist.
WE'RE READY TO WORK WITH YOU
PPC-Outsourcing UK is an exclusive PPC private label service provider offering a wide range of Pay Per Click solutions to businesses, small and large, around the world. Please don't hesitate to contact us.

Save Free PPC Guide