Outstanding White Label PPC Services
Delivering a successful Pay Per Click campaign management to PPC reseller agencies is an intricate process that requires specialist skills in various areas such as keyword research, ad copy scripting, testing, landing page optimization, campaign optimization, management, auditing and reporting. As an exclusive private PPC agency in London, our sole focus is on providing high quality, an end to end PPC management services. Our PPC experts are up to date with the latest advancements in PPC techniques, trends and tools.
We can deliver successful campaigns on a wide variety of channels including search engines such as Yahoo, Bing and Google along with social media platforms such as Facebook, Twitter, LinkedIn and others. We can help you discover and derive benefits from new and less crowded ad platforms. Take a look at our Google Shopping Ad services and remarketing ads services for more information.
End to End Solutions
Our white label Google Ads services are second to none. We have defined processes and efficiencies to take care of your entire campaign from ideation and implementation to optimization and management. Customized solutions for PPC Ads white-label in the UK is our forte. We start by analyzing services or products provided by the client, understanding market and competitor's offerings.
Based on this, we build a list of highly targeted keywords and ad copy that resonates with a relevant audience and tempts them into clicking the ad on the search engine results page. When they click on the ad, they will be redirected to the client's website landing page that best harmonizes their search.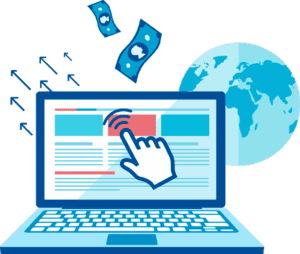 Optimized Campaigns for Increased ROI
Choosing the right service provider Pay Per Click or Google Ads in the UK is key to building a successful partnership with your client. Whether you need assistance for a single campaign on a single account or you're looking to cross-sell PPC management services to your client, we are here for you. We are committed to delivering increased ROI, improved revenues and the best possible results for you and your clients.
Our PPC campaign results are 100% measurable which means that we can track how your campaign is progressing and how many leads have converted into actual sales. With our evaluation expertise, we are able to modify campaigns so that they are optimized to deliver improved ROI quickly and effectively.
Confidential and Trustworthy Services
Being a trusted and 100% white label PPC services provider means a lot to us. We strive to ensure that the spotlight remains firmly on you. We work in the background, maintaining strict confidentiality and discretion at all times. With our experience in providing services to a broad range of clients, you can be assured of custom solutions – no matter what your unique needs and requirements may be.
We will do all the work and you will receive full credit and benefits accrued from creating and running a successful PPC campaign that generates desired leads, conversions and sales. Ready to discuss your campaign requirements? Get in touch and one of our friendly staff will be happy to assist you.
WE'RE READY TO WORK WITH YOU
PPC-Outsourcing UK is an exclusive PPC private label service provider offering a wide range of Pay Per Click solutions to businesses, small and large, around the world. Please don't hesitate to contact us.

Save Free PPC Guide