CAPITALIZE ON EXISTING DEMAND
Google Ads remarketing targets that niche of the target audience who have already purchased your products or have visited your website or product page. The key is to capitalize on existing demand by making sure that the content of the remarketing ads is compelling and convert the website visitor into a customer. The experts at our
PPC management agency
will first spend time to analyse the existing performance of the remarketing campaign and the existing demand for your products in the market. Customer preferences and behaviour is understood by means of extensive keyword research to identify those keywords that perform the very best. You can gain access to Google-certified expertise by outsourcing to PPC-Outsourcing, UK.
ppc mANAGEMENT CAMPAIGNS CUSTOMIZED SOLUTIONS
Outsourcing your PPC campaign management to us means you will be receiving customized solutions. At PPC-Outsourcing, we believe that every client should be given services that are made specifically for them to achieve the best results. Our experts conduct a thorough evaluation of the products and services that require to be advertised to identify factors that will help boost exposure and reach.
The information from this evaluation is used to curate a list, filled with cost-effective, actionable recommendations that are bound to increase your ROI and profits. Following this, unique Google shopping ads for ecommerce are created and optimized to garner a higher number of clicks. If we take over your remarketing campaigns, you can rest assured that potential customers will be converted to actual customers, without a doubt.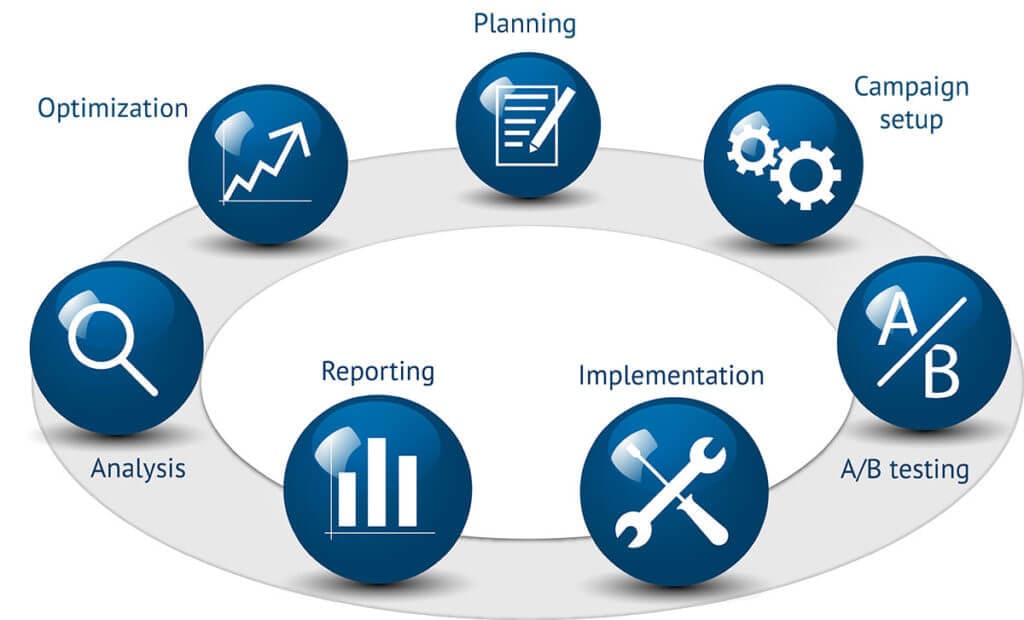 PPC MANAGEMENT ACROSS VARIOUS PLATFORM
Our Google Ads management services are spread across multiple social media platforms. There is no denying the huge presence of social media in the lives of users across the globe. Digital marketing that does not factor in social media platforms is bound to fail. Our experts will create remarketing campaigns that will take over every social media platform, be it Facebook, Twitter, Instagram, etc., by storm.
We follow tried and tested procedures to achieve the best results for our pay per click management services. Every pay per click campaign is preceded by thorough evaluation and planning, then comes the set-up of the campaign, then A/B testing, implementation of the various strategies, reporting about the performance of the campaign, analysis to achieve better results and finally optimization to ensure maximum ROI.
EVERY ASPECT IS TAKEN CARE OF
PPC-Outsourcing is one of the best white label PPC management agencies in the UK. We take care of every aspect of a Google remarketing campaign for our clients. From extensive keyword research to selection of the highest performing keywords, creation of effective remarketing ads, development and optimization of the landing page, constant monitoring of conversion rates, management of search inventory, audits of the PPC campaign to regular reporting, we do it all.
Our experts believe that the success of PPC ad management is dependent on transparent and constant communication. We allow our clients direct access to our Google-certified experts. Any doubt or query you may have can be brought up with our experts, and we assure you that you will receive the answer to your questions. In fact, we encourage open communication and accountability. Regular progress reports of the PPC campaign are shared with our clients so that they will know exactly what we do and where we stand.
WE'RE READY TO WORK WITH YOU
PPC-Outsourcing UK is an exclusive PPC service provider offering a wide range of quality solutions to businesses, small and large, around the world. Please don't hesitate to contact us.

Save Free PPC Guide