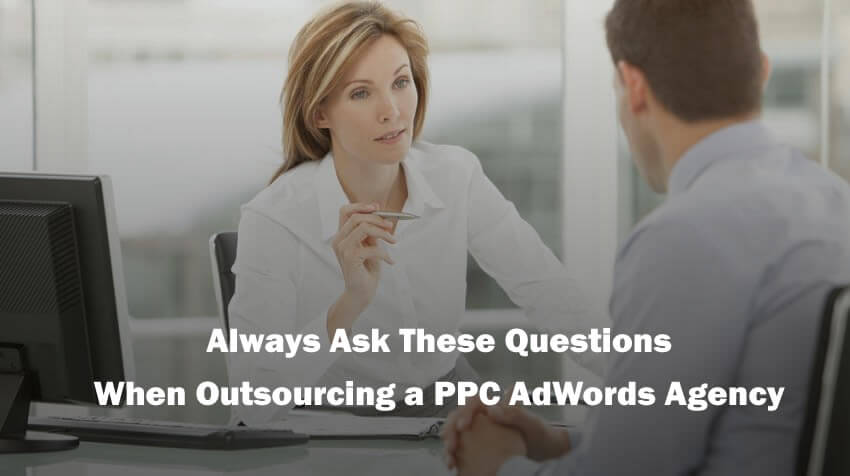 The process of Hiring the best PPC agency for your PPC outsourcing needs may not be as straightforward as it seems. Shopping for the suitable PPC agency to outsource Ads is as complex as Google Ads itself. In this era of comprehensive competence, the industry is becoming excessively flooded with PPC agencies, which claim that they are the best at what they do. However, blindly entrusting your PPC and Google Ads account might convey serious damages to your business.
If you are already on a shopping spree, to hire a PPC agency, you can save a lot of time, money and avoid that uncalled for headache if you thoroughly audit these agencies beforehand.
Read on for the questions that should be asking a potential outsource PPC agency –
#1 Previous record
The best way to clear out the mist is to check the agency's previous records and client testimonials. As this will provide you with a deep insight about the agency's past performances and most importantly you will be able to extract out valuable information about its retention rate.
Retention rate is a crucial commodity that should be taken into consideration before proceeding with the deal. Previous record will also help you to find out about how long the agency have been around and what reputation they have earned.
#2 Wide knowledge
In order to provide you with paramount results, an PPC service agency should certainly have a quantifiable experience, across array of industries and business functions. This is important because if an agency has previously served a business, uncannily similar to yours, it would be very beneficial as the agency will take the least possible time to align itself according to your business.
Moreover, it will save time and labour that would have exhausted if the agency did not had any idea about how to go about your business type.
#3 Workforce
Every PPC outsourcing agency boasts of proficient experts that would not leave any stone un-turned in order to deliver superior PPC campaigns for your business. However, sometimes these claims are just a gimmick to grab the project. In such cases, you will be under the impression that your PPC account is managed by professionals, but in real, you are being duped by novice amateurs.
Imagine the desolation that will run down your mind if you find about such fraudulent activities with your account? Therefore, to circumvent such situation, properly check the background and qualifications of the technicians that would be working on your account.
You can even hire third party services to chisel out this work for you.
#4 Proof
Do not get allured to the agency's words. Ask for their previous work samples, though it may not be readily available, but reputed agencies do provide you with their previous samples, so that you can make up your mind and decide whether to go with them or not. Furthermore, if the agency disagrees or shows reluctance in documenting their previous work, then sir, it is time for you to walk out and carry on with your search.
#5 Array of services
You should stick to a PPC agency who offers an array of digital marketing services, such as, Search engine optimization, content marketing, re-marketing, and search engine management and so on. If an outsource Google Ads agency boasts of these crucial services, then it is a plus point as you may, at any point of time need a SEO or a content marketing service congruously with PPC.
Therefore, instead of hiring two or three agencies for digital marketing, the work would be best managed by one agency that packs the expertise of every aspect of digital marketing, moreover, it will save you a lot of money and time, that may be utilized somewhere else.